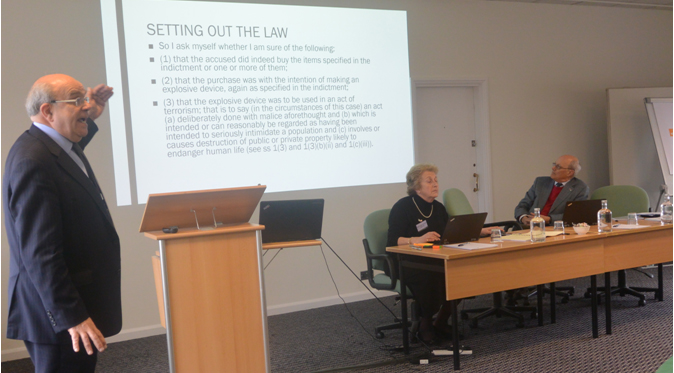 The Judicial College receives many requests for assistance, ranging from a request to present a paper at a conference to assisting a jurisdiction by undertaking a scoping study and thereafter devising and implementing a training project. The training project may cover a discrete area e.g. Money laundering or long and complex trials. It may also have a more general ambit  e.g. the business of judging or the application of the adversarial system in trials. At other times it can extend to help with setting up a new training school from scratch or by delivering training to overseas judges in their own country.
In the last year we have delivered courses to judges from countries including:
Jamaica
Nigeria
Macedonia
Kazakhstan
Bermuda
Panama
Our courses have covered topics including:
Terrorism
Money laundering
Judgment writing
Judicial ethics
Business of judging
The Adversarial system of trial
The judges who deliver this training have specialised skills in a variety of areas and we liaise very closely with organisations including the FCO, DFID, ROLE UK, the Slynn Foundation, the British Council, the UN and the CPS.
You can read some examples of training programmes below:
Contact email address: Internationalrelationsjudicialoffice@judiciary.gsi.gov.uk
The Judicial College's International Training leaflet
The Judicial College is the official body responsible for the training of judicial office holders in England and Wales and some tribunals around the UK.
The European Judicial Training Network
Within the European Union, the Judicial College is an active participant in the European Judicial Training Network (EJTN). The aim of EJTN is to help foster a common legal and judicial European culture, to develop the area of freedom, security and justice and to promote mutual recognition of judgments.
EJTN coordinates programmes in EU law across Europe. A large number of events are organised annually across Europe by training schools within the network and many of these are open to other members, a scheme known as the Catalogue Programme. Further, with the help of EU funding, Exchange Programmes are organised by the network which enable judges and judicial trainers from one country to experience the judicial/training system of another.
The Judicial College participates in both the Catalogue Programme and Exchange Programmes.
The Judicial College also takes part in events organised by the International Organisation for Judicial Training (IOJT), a world-wide judicial body dedicated to the promotion of the rule of law in other countries and to helping other countries establish training schools which further such rule.