In March Northumbria University Law School was the venue for an evening networking event, one of a series to raise awareness of career opportunities in the judiciary, attended by fifty people.
As part of their commitment to promoting greater diversity in the judiciary, the Law Society, Bar Council, Chartered Institute of Legal Executives (CILEx), Judicial Office and the Judicial Appointments Commission (JAC) organised the event, aimed at qualified legal professionals currently under-represented in the judiciary (BAME, women and those from a non-traditional background/social mobility i.e. state school education/first generation to go to University) who are interested in a career in the judiciary.
As well as practical advice on the application process from the Judicial Appointments Commission, the audience heard inspiring and different stories from across the judiciary before meeting the judges in a relaxed setting.
Keynote speaker the Rt Hon Dame Heather Hallett, Vice President of the Court of Appeal Criminal Division and the lead on judicial diversity

The Rt Hon Dame Heather Carol Hallett DBE was educated at grammar schools in Hampshire and at St Hugh's College, Oxford. She was called to the Bar in 1972. In 1989 she became a QC and was appointed as a Recorder of the Crown Court. She became a full-time judge of the Queens Bench Division in 1999 and after a number of significant posts was appointed Vice President of the Court of Appeal Criminal Division in 2013.
She described her background and route to the Bar and the Bench from an 'unpromising start'. She encouraged members of the audience to consider a judicial career, whatever their personal and professional background, and not to think too narrowly when considering a judicial appointment. Skills in one area of the law may well be transferable to another and it is never too early to begin keeping a record of skills and achievements that may be relevant to an application.  She recommended the support programmes available from Judicial Office and the profession and encouraged people not to give up if they do not succeed on their first attempt.
Mrs Justice Simler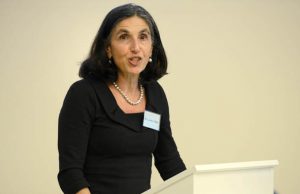 Mrs Justice Simler was called to the Bar by Inner Temple in 1987, having attended grammar school in London and completed a law degree at Cambridge University, and a post-graduate diploma in EU law at the Europa Institute, University of Amsterdam. She was appointed to the Attorney General's Civil Panel A in 2001 and as Junior Counsel to the Inland Revenue (Common Law) in 2002. She was appointed as a QC in 2006. She became a Recorder in 2002 and a Deputy High Court Judge in 2010. In 2012 she was elected Head of Chambers at Devereux and held that position until her appointment as a High Court Judge of the Queens' Bench Division in October 2013. In January 2016 she was appointed President of the Employment Appeal Tribunal for a three year term.
"I never planned to be a barrister, let alone a judge," Mrs Justice Simler began, then spoke of combining her professional life with bringing up four children and her moments of doubt that she was spending enough time with them. On her route to being a judge, she emphasised preparation above all and said that as she did, "Most people don't get it first time."
Judge John Aitken, President Social Entitlement Chamber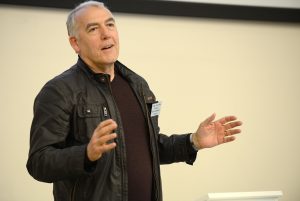 Judge Aitken attended state schools and ceased education at 16 to work as a waiter, a driver and then police officer. He took 'A' levels at night classes, joined the Criminal Bar in 1984 and left in 2002 to become an Immigration Judge. After a number of posts within the Tribunals he is now the President of the Social Entitlement Chamber the largest of the Tribunal jurisdictions, comprising Social Security Child Support, Criminal Injuries and Asylum Support appeals with over 100 full time Judges and Medical Members, and around 2,000 fee paid judicial Office holders.
Newcastle is Judge Aitken's home town, and he spoke of his journey from a tough childhood looking after two disabled parents on benefits, to the Tribunals. He said that being singled out as poor in the school meals queue has given him a real sense of how it feels to suffer discrimination. His advice to applicants was to find different ways of looking at what the JAC needs, not just through what you're already best at. He said that we have a great judiciary but "How much better we'd be if the pool was as wide as it could be."
Deputy Senior District Judge (Chief Magistrate) Tanweer Ikram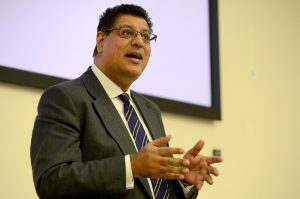 Judge Ikram spoke to the event the evening before he was sworn in as the Deputy Senior District Judge (Chief Magistrate) by the President of the Queen's Bench Division Sir Brian Leveson.
He was born and schooled in Slough. After graduating in law from Wolverhampton Polytechnic, he was Called to the Bar (I) in 1990 and then, admitted as a solicitor in 1993. He became a partner at a local law firm and specialised in criminal defence and prosecution work. In 2008, he served as the President of the London Criminal Courts' Solicitors' Association. He was first appointed as a parking adjudicator (2002), then a part-time Deputy District Judge (MC) in 2003 and a full-time District Judge (MC) in 2009 and is now 'ticketed' to hear extradition cases. In 2015, he was appointed an Associate Judge of HM Court of the Sovereign Base Areas in Cyprus.
Judge Ikram spoke of his 'zigzag journey' within the judiciary from parking adjudicator to extradition, being called upon to deal with a new area of law, adapting, and finding that many skills are transferable, telling the audience to 'think outside the box' when applying for judicial posts.
Carol Morgan, head of Operations at the Judicial Appointments Commission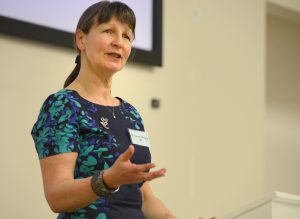 Carol was appointed Head of JAC Operations in December 2014. She joined the JAC in August 2010 as an Assistant Director working in operational and policy areas.
Carol gave a great deal of practical advice to supplement the support material on the JAC website, which is regularly updated. She explained how to best present examples of achievements as evidence of meeting the competencies required for each recruitment exercise – a short summary of the situation/problem, longer detail on what you did and the end result. Quantify your success and if appropriate specify the value or level of money involved.
She advised that if you're entering for more than one competition to resist the temptation to cut and paste evidence between them but tailor each for the specific role. Carol emphasised that some of the entry level exercises are very competitive. It is important to select examples carefully to enable you to demonstrate a high level of competence. You might choose more than one example in order to demonstrate a breadth of situations and contexts (some complex, others highly sensitive, for example), but avoid simply listing examples.
Strong examples focus on decisions taken in complex, sensitive or highly-charged cases or situations, or where you were vindicated in taking a decision that was difficult, innovative or controversial. An example of a decision with far-reaching implications would allow you to demonstrate your ability to consider the impact of the decisions you make.
Equally strong examples focus on situations where candidates have assimilated unusually large volumes of information, where the information was particularly technical or complex, or where time pressure was involved. It is good to make the nature and scale of such challenges clear in the example.