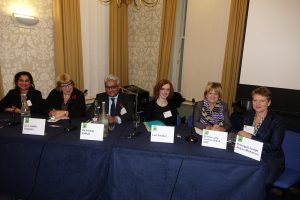 As part of its commitment to promoting greater diversity in the judiciary, the Law Society, Bar Council, Chartered Institute of Legal Executives, Judicial Office and the Judicial Appointments Commission ran one of a continuing series of targeted events to raise awareness of opportunities in the judiciary, attended by 134 people in London during November.
These events are aimed at legal professionals currently under-represented in the judiciary (BAME, women, those with a disability, LGBT and those from less privileged backgrounds) who are interested in pursuing a judicial career.
As well as practical advice on the application process from the JAC, the audience heard inspiring and different stories from across the judiciary before a chance to meet the judges in a relaxed setting.
The Rt Hon Dame Heather Hallett, Vice President of the Court of Appeal Division and the lead on judicial diversity painted a realistic picture of the pace of change, that "There is no one answer to improving diversity" but urged legal professionals to overcome any 'fear factor'. First appointed a recorder in 1989 she spoke enthusiastically about how being a judge was "challenging, intellectually demanding and never boring."
On solicitors becoming part-time judges, she recognised the tendency of some law firms to view allowing lawyers to sit in terms of lost billable hours but she invited them to see it as a form of public service which returns business benefits in improved analytical skills and confidence of those part-time judges.
Her Honour Judge Sapnara was appointed as a Circuit Judge in 2014 and sits in both family and crime. She described how she arrived in the UK the child of Bangladeshi refugees speaking no English and was educated at state schools and read law at the London School of Economics. She had no expectation of becoming a judge when she made the Bar because "it's even more difficult when you don't see anybody who looks like you on the bench." But she advised the room that: "If you don't apply things are not going to change. Like the lottery you have to be 'in it to win it'. I don't know any job where there is more support to apply." For practical advice on being ready to apply she said: "Look at the competencies before the job ad appears. Get advice, work shadow. When the advert appears it's too late."
Upper Tribunal Judge Judith Gleeson entered the judiciary as a solicitor and fee-paid judge in 1993 and is now an appellate judge in the Upper Tribunal Immigration and Asylum Chamber. She explained that she relished the intellectual challenge of judging. "You get to look at what the answer is, not just one side. You have to take the puzzle apart, then make the pieces fit together correctly".
While the work was hard and challenging, Judge Gleeson said it was never dull, and more family-friendly than you would expect.  She contrasted the life of a practising lawyer, when a client can call you in the middle of the night, to that of a judge who can set their own deadlines and be home at a reasonable hour. Like a number of her Tribunal colleagues, Judge Gleeson has the option of percentage working (she has been at 90% for almost 10 years now, freeing two days a month for personal or other judicial activity), and also flexible working practices, such as working from home, which allow her to better integrate home and work.
Deputy District Judge Pankaj Pathak was appointed in 2010 and now sits in the county courts of London and Essex in all areas of civil law as well as private children disputes while maintaining his own practice in family law. He stressed the variety of work that he faces on a daily basis, which is frequently far removed from his area of practice, such as a day of insolvency cases, or housing.
There was also the job satisfaction of a judicial career in the family courts: "We are repairing problems, trying not to look at the past, but to create a future for a couple who may have been at war with each other" He also brought home the benefits of a mixed ethnic background judiciary with a story of how he was able to help an unrepresented couple who were left without an interpreter, by being able to speak to them in their own language. This gave the litigants a real sense that they were equal stakeholders in their own case. DDJ Pathak has recently started as a mentor to support aspiring Deputy District Judges.
 Lori Frecker, head of Equality and Diversity at the Judicial Appointments Commission stressed the importance of preparation as competition for each post is fierce – recent recruitment for 99 recorders drew 1,000 applications. She gave a number of tips on how to fill in competency based applications, something which is new to many judges and legal professionals and pointed to the large amount of material to help practice and prepare on the JAC website,
Future diversity events will be advertised on the judicial website www.judiciary.uk