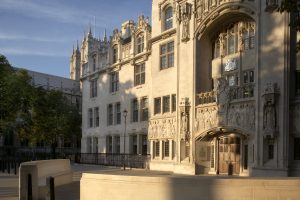 The UK Association of Women Judges is launching an open lecture series celebrating 100 years of women in law.
The launch event – which marks the centenary of women's entry to the legal profession – will be held at the Supreme Court, Little George Street, London SW1P 3BD – on Thursday March 21, from 6pm to around 8pm.
The lecture series will take the form of discussions between individual judges and academics exploring the work and jurisprudence of each judge, who will be invited to reflect on her career and consider the extent to which gender has made a difference to her contribution to the law.
Among those taking part are:
Brenda Hale, Baroness Hale of Richmond – the first to be a woman Law Lord and first woman President of the Supreme Court. She will be in discussion with Professor Erika Rackley, Professor of Law at the University of Kent, author of Women, Judging and the Judiciary: From Difference to Diversity (2013).
Baroness Elizabeth Butler-Sloss –the first woman on the Court of Appeal, first woman President of the Family Division and author of the Cleveland Report. She will be in conversation with Her Honour Judge Sonia Harris, former Professor of Law at the University of Birmingham and co-author of Family Law (3rd ed, 2015).
Justice Teresa Doherty CBE – international jurist, human rights lawyer and former Presiding Judge of the Special Court for Sierra Leone. She will be in discussion with Professor Rhona Smith, Head of the Law School at the University of Newcastle and author of International Human Rights Law (8th ed, 2017).
The evening will begin at 6pm and will last for around 1 hour 30 minutes, ending sociably with wine and canapes.
Tickets are £60, except for students and all trainee lawyers who will pay £25. Bookings must be made through the Eventbrite website (external link, opens in a new tab). Everyone is welcome – lawyers or not.