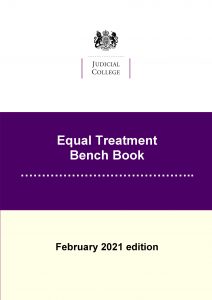 A comprehensive new 2021 edition of the Equal Treatment Bench Book (ETBB) has been released.
The Equal Treatment Bench Book aims to increase awareness and understanding of the different circumstances of people appearing in courts and tribunals.  It helps enable effective communication and suggests steps which should increase participation by all parties.
This new revision of the ETBB cites recent evidence regarding the experiences of different communities living in Britain today. It is full of practical guidance aimed at helping make the court experience more accessible for parties and witnesses who might be uncertain, fearful or feel unable to participate.
There are practical tips on communicating with those speaking English as a second language or through interpreters, communicating with people with mental disabilities, a guide to different naming systems, and latest views on acceptable terminology.
There is new and expanded content on:
The impact of the COVID-19 pandemic on different groups and how to conduct remote hearings (on audio or video platforms) fairly
Welsh/English bilingualism and the right to speak Welsh in courts and tribunals in Wales
Reducing jargon and legalese
Assisting a litigant who has difficulty reading or writing
Extended guidance in relation to litigants-in-person (ie people representing themselves)
New entries in the disability glossary
Confidence in the courts of minority ethnic communities
Sensitivity if a witness is experiencing menopausal symptoms
A Word version of the Equal Treatment Bench Book is available for those who find the PDF is incompatible with their screen reader. To request a copy, please email jcpublications@judiciary.uk stating the type of screen reader you use.