A District Judge – described as a 'legend in his field' – is to receive a Special Award at the Legal Aid Lawyer of the Year Awards 2019.
Judge Anselm Eldergill, who sits in the Court of Protection, had been nominated by the court's bar and solicitors for helping shape the law to protect people with mental illness and/or impaired capacity, and his contribution to access to justice.
He will receive his award at a ceremony in July, organised by the Legal Aid Practitioners Group (LAPG) (external link, opens in a new tab) the leading membership organisation for legal aid lawyers.
Judge Eldergill said: "When the awards were announced, I had no idea I'd even been nominated. It was a lovely surprise."
This is only the third time the LAPG Committee has chosen to make a Special Award, which celebrates campaigners and others who make an exceptional contribution to legal aid and access to justice.
CEO Chris Minnoch said: "LAPG Special Awards are reserved for truly exceptional individuals who have achieved incredible things, often alongside of their day-to-day legal practice.
"Anselm was a mental health lawyer for 25 years, and is a true legend in this field. He now sits as a District Judge in the Court of Protection, and has been responsible for developing the law in relation to people with impaired capacity, in ways far beyond his formal status as a judge.
"He has made an incomparable contribution to the protection of those with mental illness."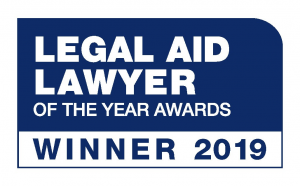 He said that Judge Eldergill has, through his 1997 book Mental Health Review Tribunals, shared his expertise and equipped many practitioners to represent the most vulnerable clients in a way that would not otherwise have been possible in what was a developing area of law.
Mr Minnoch added: "It explicitly recognised the Tribunal as a way of enforcing civil rights and had a transformative effect.
"Now that he is on the Bench, Anselm has lost none of his approachability, and remains vigilant to ensure people can exercise their rights."
FACTFILE
District Judge Anselm Eldergill has sat in the Court of Protection (mental health/incapacity court) since 2010
In his long career, he's been a Mental Health Act Commissioner, the legal chairman of 10 Government inquiries, a tribunal judge and assistant coroner, among many other things
He's been a legal aid practitioner in south London and Kentish Town working on behalf of people with mental health problems for 25 years
Judge Eldergill is the only Commonwealth judge on the United Nations Judicial Committee on Incapacity and Access to Justice
The previous recipients of LAPG Special Awards are Baroness Doreen Lawrence OBE (mother of Stephen Lawrence), who was honoured in 2012; and criminal practitioners Bill Waddington, Robin Murray, Jon Black and Paul Harris, who were recognised in 2015