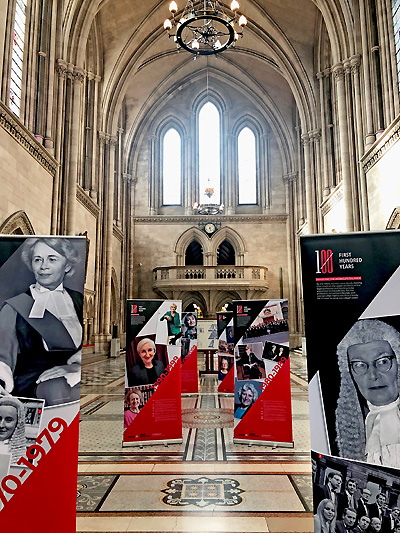 This month, the Royal Courts of Justice (RCJ) joined in with The First 100 Years, celebrating a centenary of women in law by displaying an exhibition of banners of the first 100 years of women in the legal field.
Banners detailing key milestones from each decade of women in law in the 20th century have been displayed in the foyer of the RCJ, which is fully accessible to all.
It follows the progress that was made by many female 'trailblazers' who helped to pave the way for other women to enter the legal profession since the 1910s. The exhibition casts a light on these key figures including: Helena Normanton, who became the first woman to practice as a barrister in England in 1922; Eileen Kennedy, who was appointed as the first female judge in the Republic of Ireland in 1965; and Lady Hale, who was appointed as the first female Lord of Appeal in Ordinary in the House of Lords in 2004 and then became the first female President of the Supreme Court in 2017.
To find out more beyond the last 100 years of women in law, see this timeline charting progress made since 1879.
The exhibition will be on display until 27 September  before returning to the RCJ for an Open House event ahead of the Christmas period.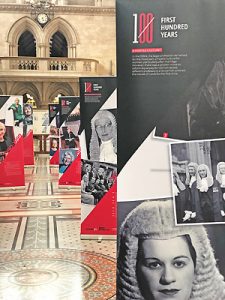 Why not brush up on your knowledge of some of the early pioneers of women in the field of law?
The First 100 Years have recently produced three videos about female solicitors, barristers and judges that you ought to know about. First 100 Years founder Dana Denis-Smith joined Crafty Counsel to share with you the stories of these women in under 90 seconds.
The First 100 Years
The First 100 Years is a ground-breaking history project, supported by the Law Society, Bar Council and CILEx, charting the journey of women in law since 1919. Visit their website to find out more about the campaign, forthcoming events and their digital museum.