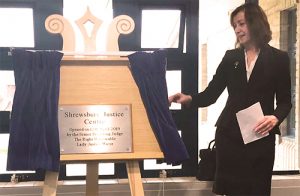 Senior Presiding Judge, Lady Justice Macur, has formally opened the £5 million Shrewsbury Justice Centre.
On Friday (12 April) she unveiled a plaque to officially open the building – the former Shrewsbury Magistrates' Court.
The unveiling was witnessed by the Mayor of Shrewsbury Peter Nutting, local MP Daniel Kawczynski, High Sheriff in Nomination Josh Dickis, senior judiciary and local judges, legal professionals, court staff and facilities management partners G4S.
Crown court cases, Social Security and Child Support hearings are already being heard at the centre.
The renovations were funded by HMCTS after months of planning and consultation with court users, stakeholders and colleagues.
There are now two Crown Court rooms, a tribunal hearing room, a flexible hearing room, and improved office accommodation, while the building has been fully redecorated, the cells upgraded and security updated to include new CCTV. It all provides a modern, accessible, and comfortable facility for everyone that works in and uses the building.