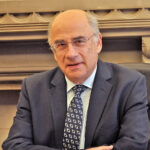 Sir Brian Leveson was announced as the next Investigatory Powers Commissioner today (3 October 2019).
He will be taking over from Lord Justice Fulford later in October.
Best-known by the public for chairing the inquiry into the culture, practices and ethics of the Press, Sir Brian retired from his judicial role (opens in a new tab)as President of the Queen's Bench Division and Head of Criminal Justice on his 70th birthday in June 2019.
More details are available on the No10 Downing Street website (external link, opens in a new tab).