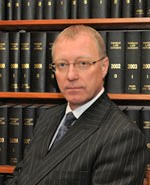 The Senior President of Tribunals, Sir Ernest Ryder, presented his report for publication to the Lord Chancellor and Secretary of State for Justice on 25 May 2018.
It included a compendium of reports from each United Kingdom Tribunal, covering the diverse workload and issues across our jurisdictions.
In light of the significant work being undertaken by tribunals judges and panel members in the Courts and Tribunals Modernisation Programme, he undertook to publish a further report dealing with the modernisation of Tribunals. This supplementary report is published today (see below).
More information
This supplement and the original report published in May covers tribunals that comprise the unified structure created under the Tribunals, Courts and Enforcement Act 2007. This includes jurisdictions in Scotland and Northern Ireland that are part of UK-wide tribunals. The Employment Tribunals (Scotland) is a reserved tribunal and not devolved.
HM Courts and Tribunals Service administers a two-tier tribunal system: a First–tier Tribunal and an Upper Tribunal, both of which are split into Chambers. Each Chamber comprises similar jurisdictions or bring together similar types of generalist experts to hear appeals. The Employment Tribunals stand separately from this and appeals from these are to the Employment Appeal Tribunal.
The Upper Tribunal primarily, but not exclusively, reviews and decides appeals arising from the First–tier Tribunal. Like the High Court, it is a superior court of record that has available to it the specialist judges of the senior tribunals judiciary, Judges of the High Court and the Court of Session.
This two-tier structure is headed by the Senior President, who stands independent of the Lord Chief Justice of England and Wales, the Lord President and the Lord Chief Justice of Northern Ireland.