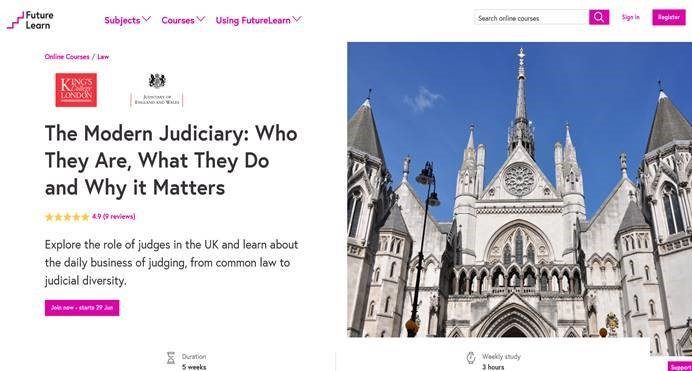 Earlier this year the Judiciary of England & Wales, in partnership with King's College London, launched a free online course (opens in a new tab) about the work of the modern judiciary.
Participants covered the work of the judiciary, examined judges' portrayal in the media and learned how to understand judgments.
Feedback from those who took the course has been overwhelmingly positive. Many of the learners said the course had completely changed their view of the judiciary, and some had said it had inspired them to consider studying law.
Consequently, we will be running the course again from 29 June.
No previous legal knowledge is required to enrol, and the next iteration of the course will include additional material on the ways in which the judiciary has responded to the challenges of the COVID-19 pandemic.
King's College, the Judicial Office and FutureLearn are also pleased to be able to offer free upgraded access to the course to all UK schools.
The course will start from 29 June for five weeks, and participants can register to take part online (opens in a new tab).