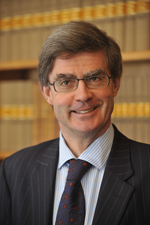 Sir Julian Flaux was called to the Bar in 1978 and practised at the Commercial Bar from 1979 to 2007 specialising in disputes involving insurance and reinsurance, shipping, international trade and professional negligence. He was appointed a QC in 1994, an Assistant Recorder of the Crown Court in 1997, a Recorder in 2000 and Deputy High Court Judge in 2002.
He was appointed a High Court Judge in May 2007. He was Presiding Judge of the Midland Circuit from 2010 to 2013. He was Judge in Charge of the Commercial Court from July 2014 to December 2015 and President of the Special Immigration Appeals Commission from January to December 2016.
He was appointed a Lord Justice of Appeal in December 2016 and Lead Judge for International Relations in November 2019.
In February 2020, he was appointed as the Supervising Lord Justice of the Commercial Court.
Sir Julian was appointed Chancellor of the High Court in February 2021.