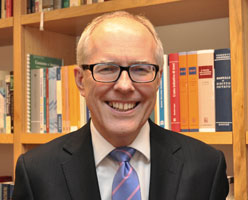 Paul Matthews was a law lecturer at UCL from 1979 to 1983, and has held visiting appointments at KCL since 1991 (currently as professor). He also held visiting appointments at St Edmund Hall Oxford, the City University, the University of Aix-Marseille, the Institute of Law in Jersey, and the University of Liechtenstein.
He was originally called to the Bar in 1981 but cross-qualified to be admitted a solicitor in 1987, practising in the fields of chancery and commercial litigation, first with Hopkins & Wood, and then with Withers.
He became a deputy coroner in 1994, a solicitor-advocate in 2001, coroner in 2002, a deputy chancery master in 2008, a recorder (civil) in 2010, a judge of the Court of Trusts and Fiduciary Relations of the Republic of San Marino in 2014, and a chancery master in 2015.
He is an author or editor of Underhill & Hayton on Trusts and Trustees, Matthews and Malek on Disclosure, Trust and Estate Disputes, Trusts: Migration and Change of Proper Law, The Jersey Law of Trusts, Jersey Property Law, and Jervis on Coroners, amongst other works.