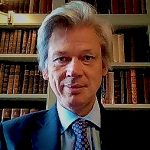 Mr Justice Butcher was educated at Magdalen College, Oxford (First Class Honours, Modern History), and City University (Distinction, Diploma in Law).
In 1983 he was elected a Prize Fellow of All Souls College, Oxford.
He was called to the Bar, Gray's Inn, in 1986. He did his pupillage at 7 King's Bench Walk (pupil of Sir Jeremy Cooke, as he became).
In 1987 he was awarded the Eldon Law Scholarship by the University of Oxford.
Between 1987 and 2018 he practised at 7 King's Bench Walk, specialising in commercial law.
In 2001 he was made a QC; in 2005 became a Bencher, Gray's Inn; in 2009 was appointed a Recorder; in 2013 was appointed a Deputy High Court Judge; and in 2018 was appointed a High Court Judge.
Mr Justice Butcher has a PhD from the University of London (KCL).