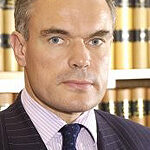 Sir James Dingemans practised at the Bar appearing in cases involving constitutional issues, including written constitutions from the Commonwealth, international arbitrations representing developing countries, public inquiries, administrative law, overseas and catastrophic injury cases, and general common law cases.
He was Chairman of the International Committee of the Bar Council from 2009 to 2012 and he was a member of the Executive Committee of the Commonwealth Lawyers' Association. He was a Presiding Judge of the Western Circuit from 2014 to 2018. He is a member of the Council of the Commonwealth Magistrates and Judges Association. He was appointed to the Court of Appeal on 23 October 2019.
Lord Justice Dingemans was appointed Vice-President of the Queen's Bench Division for a three year term with effect from 5 February 2020.