Foreword by the Lord Chief Justice
It is obvious that a number of courts in different parts of England and Wales no longer fulfil any sufficiently valuable public purpose. In some cases their location reflects the needs of earlier generations and they are under utilised: in others, the facilities and their state of repair are wholly unsatisfactory. In short, for one reason or another, courts like these no longer serve their communities, and the justification for keeping them in operation is scant.
The current national financial crisis has provided us with a useful opportunity to examine the court estate, and I supported this public consultation which provided an opportunity not only to examine the locations where our courts are situated, but also whether they were sufficiently meeting their purpose in the administration of justice throughout the country.
The responses sent to my office have been carefully considered by my judicial colleagues, and this paper represents an objective analysis of the material sent to me. I do not pretend that the paper has taken account of all the responses sent by many different judges and magistrates, and others, in response to the consultation. It therefore follows that the paper does not presume to represent a response on behalf of the entire judiciary, nor indeed in relation to any individual court, for which the issue of closure has been under consideration, all the relevant members of the community.
Dealing with the matter in practical realities, the end result of the analysis is that each court falls into one of three categories. The first where the case for closure, notwithstanding local feelings and traditions, is clear. The second category includes the courts where compelling arguments against closure have been made. The third category includes the courts where the final decision should not be made until further detail has been obtained. In short, some of the assumptions in the consultation paper appear to be open to question.
I am very grateful to everyone who has responded to the consultation paper, and drawn attention to particular aspects of an individual court and the proposal for its closure which merit attention.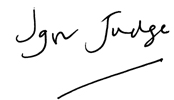 The Rt Hon The Lord Judge
Lord Chief Justice of England and Wales