Commonwealth Commercial Courts – Establishing the new normal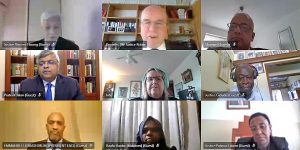 A virtual seminar brought together members of the Commonwealth Magistrates and Judges Association (CMJA) and the Standing International Forum of Commercial Courts (SIFoCC).
Chaired by Mr Justice Robin Knowles, the Judge with day to day responsibility for SIFoCC, the event follows the cancellation of the CMJA Conference in Cardiff earlier this year due to the COVID-19 pandemic and the Commonwealth Chief Justice Roundtable that took place in October.
Its aims included encouraging joint-working and building relations, sharing ideas and best practice, and discussing what business and human rights will look like in the post-COVID period.
Lord Justice Dingemans, Court of Appeal Judge and CMJA Council Member, gave the introductory remarks. A member of the COVID-19 Board for the Judiciary of England and Wales, he said there's been a rapid investment in new technology and asked how other jurisdictions have been coping.
Among the topics discussed at the meeting were:
Judges around the Commonwealth are more open to technology following a proactive approach to dealing with the pandemic
Commercial practitioners in a number of jurisdictions have continued working at full tilt
Looking forward – this is the new normal. For two decades, one jurisdiction said they'd tried to implement new video conferencing. COVID-19 has provided the tipping point. However, now the digital divide has been brought into sharp focus
Zoom rooms have become a permanent feature of the Singapore courts
Live-streaming of cases and issuing press statements has helped change public perception in some jurisdictions that courts were not functioning.
Judicial office holders from The Gambia, New Zealand, India, Malaysia, Tanzania, Australia, Kenya, East African Court, Singapore, Uganda, Brunei, Maldives, and Cyprus were among those taking part in the event.
As the International Law Book Facility (ILBF) was celebrating its 15th anniversary, there was a short video between sessions of its work. Ellen Lake from the ILBF encouraged participants to make use of the facility. You can learn more about their work on YouTube (external site, opens in a new tab).
Participants in the seminar said it was very useful, with the CMJA saying the feedback received showed that everyone felt they'd learnt something.
SIFoCC and the CMJA are now exploring future opportunities for collaboration of this kind.