The first virtual MA LGBT+ Conference celebrating diversity and contribution to the judiciary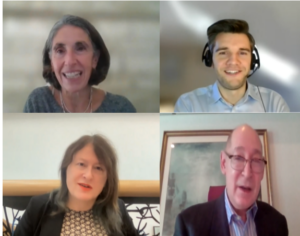 Nearly one hundred magistrates from England and Wales attended the Magistrates' Associations' first LGBT+ virtual conference, held on 21 November, where a variety of notable guest speakers participated in discussions about the benefits of a diverse magistracy and their experiences in life as LGBT+ office holders or allies.
Tom Quarton-Manuel, Chair of the LGBT+ network, Bev Higgs, National Chair, and Tom Franklin, CEO of the MA discussed the importance of judicial diversity, the challenges facing the magistracy and how the MA is working to support, influence and connect magistrates through the diversity and inclusion networks.
Lord Etherton, the conference's keynote speaker, is a former Master of the Rolls, Head of Civil Justice and Chancellor of the High Court, in addition to being Britain's first openly gay senior judge. He spoke poignantly of his experience of life as an LGBT+ barrister and his rise through the ranks of the judiciary against a backdrop of legislative and societal change. He took questions from attendees and passionately declared that people should never be afraid to be themselves and how talent will always be recognised.
Delegates also heard from Master Victoria McCloud, a Master of the Senior Courts, the youngest ever Master of the High Court on appointment, the second woman Master and the first openly trans judge. She spoke of her journey to the senior judiciary and how being a trans judge has shaped her life and experience on the bench. Lady Justice Simler, Chair of the Diversity Committee of the Judges Council, then discussed the Diversity and Inclusion Strategy.
About the LGBT+ Diversity & Inclusion Network
The Magistrates Association established the LGBT+ Diversity & Inclusion Network in 2019 to support LGBT+ magistrates, influence policy and provide networking opportunities. The group is open to any MA member who identifies as LGBT+. To find out more, please email LGBT@magistrates-association.org.uk
If you would like to become a magistrate and want more information, please visit the magistrates recruitment site.