Skip to related content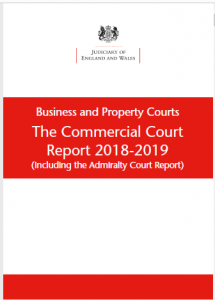 The Commercial Court (opens in a new tab) has published its annual report for the year 2018-19.
It encompasses the work and initiatives of the Commercial Court and the Admiralty Court, who share the same judges, procedures and administration.
The Court continues to attract legal disputes from many countries of the world. The international reach of the Court makes the work of its judges both interesting and challenging.
Mr Justice Teare, Judge in Charge of the Commercial and Admiralty Courts, said: "We would like to thank the Court staff for their constant dedication and hard work. Particularly in times of pressure and difficult circumstances, staff have continued to work diligently and without complaint. The Court could not operate effectively without them.
"We are also very grateful for the support and insights offered by Court users. The Court has, throughout its life, worked closely with the solicitors and barristers who appear regularly in the Court, and with its regular users. Their input is vital in ensuring that Court operates efficiently and continues to innovate its procedures to reflect the changing demands imposed by modern litigation."
Find the report attached below.