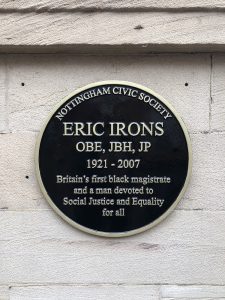 Eric Irons, Britain's first black magistrate and campaigner for social justice was commemorated outside the National Justice Museum (external link, opens in a new tab) in Nottingham on Wednesday.
A commemorative plaque was unveiled outside the former Shire Hall Courts, a fitting location, as this is where in the 1960s, Irons heard his first cases as a magistrate. It described him as 'Britain's first black magistrate and a man devoted to Social Justice and Equality for all.'
Born in Jamaica in 1921, Eric Irons served in the RAF and first came to the UK from the Caribbean during WWII. After extending his military service, Irons settled in Nottingham where he married his wife who lived locally – Nellie Kelham.
Racial equality and social justice were at the forefront of Iron's agenda throughout his career. Part of a minority of black workers at the Chilwell Ordnance Depot from 1952, Irons took issue with racial discrimination against black employees with the Nottingham and District Trade Council, and successfully secured further working opportunities for more black employees at the depot.
Irons continued to make his mark on Nottingham and in 1955, established a Consultative Committee for the welfare of black people in his own home.
His endeavours as a magistrate first began in 1962, where his position on the bench was the source of significant scrutiny from the media. Despite this, his unrelenting efforts to advance social equality and justice were recognised when he was awarded an OBE for his service in 1978. Irons continued to serve on the bench in Nottingham for 29 years before retiring in 1991.