Family Justice Council – 14th Annual Debate – 'Should the age of majority be reduced to 16?' Full live stream and video clips
The Family Justice Council held its 14th Annual Debate and panel discussion in London which was live streamed via Microsoft Teams to audiences at home – a first for the event. Pictured below are the panellists with The President of the Family Division – Imogen Tutt, Ruth Henke QC, Oscar Hatfull, Deirdre Fottrell QC and Shabina Begum (pictured left to right).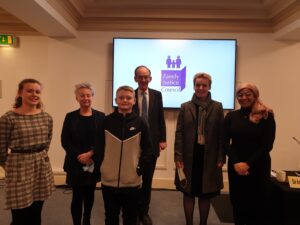 Ruth Henke QC – specialises in the protection of and provision of services to children and vulnerable adults.
Deirdre Fottrell QC – Specialises in the law relating to children
Family Justice Young People's Board member(s)
Shabina Begum, Solicitor – UN recognised authority on child, early and forced marriage.
You can watch a full recording of the live stream below:
You can watch the individual talks from the panel members and the panel Q and A below: