Ahead of International Day of Persons with Disabilities we spoke to Rachael Vasmer who is a district tribunal judge based in Shrewsbury, and an above-knee amputee. We talked about her professional journey, challenges she has faced due to her disability, and advice she would give to others.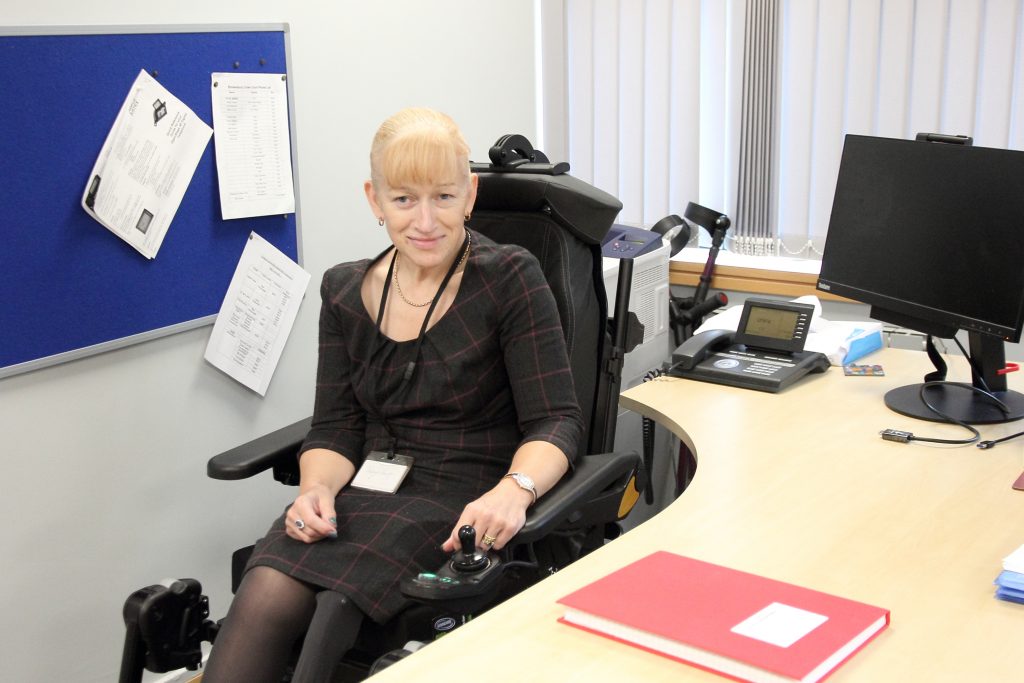 Could you tell us a bit about your background?
I went to a local comprehensive and then to sixth form in Norfolk. I have a twin brother and we were the first in our family to go to university. I studied law at the University of Bristol.
I went to London to train in what was a medium sized practice. What was very unusual about it was that it had both a city office and a legal aid office. I spent time in both learning about very different worlds: Westminster and Peckham, which was quite a deprived area of South London.
When my training finished, I was offered jobs in both offices. I decided I wanted to work in the legal aid practice because that was much more about helping people than working for corporate clients.
Now I specialise in social security cases and some cases with HM Revenue and Customs. So, if a benefit decision is made that somebody doesn't agree with about all sorts of benefits like universal credit or their dependents' payments, they can appeal and come to a tribunal.
What sparked your interest in the law?
I decided very early on that I was interested in a legal career. When I was around 14 I did get some careers advice. I wanted to do a job that would be academically interesting, but I also very much wanted a job where I could help people.
Having looked at various careers I decided that law was the thing for me, so I did my A-levels and then went to university and did a law degree. It's quite strange when you first get to university and you think 'Oh my goodness this is law', but fortunately I did really enjoy my degree.
What did you do before you became a judge?
After I qualified I did a mix of clinical negligence and housing, but decided that my real interest was clinical negligence. I have been misdiagnosed myself on a number of occasions, which I think probably really sparked my interest. So, when I moved out of London, I moved to do a job that was purely clinical negligence and did that for about 20 years before I became a full time judge.
I was what's called a fee paid judge for some time before that – working in private practice but doing some judicial work as well – which is a very good way to get into a judicial career.
Can you tell us a little bit about how you reach decisions?
The first thing you've got to do is read a bundle of papers, the size of which can vary widely from 100 to hundreds of pages. So there's lots of pre-reading to do.
We then normally have a hearing which, before COVID-19, would have been face-to-face.
At the moment we're doing a lot appeals by telephone. Clinical negligence appeals are very different to the criminal courts or the civil courts because the judge asks a lot more questions.
Depending on the type of benefit the appeal is about, I can do appeals on my own, or with a medical member or disability qualified panel member as well, so someone who's got some interest in or experience of disability.
If there's more than one member, we will talk about a case before the hearing to sort out what the issues are, then we will have the appellant in and have the formal hearing and get evidence from the appellant. Sometimes they'll bring family members with them and, after the hearing finishes, we will have a discussion. That's when we make our decision.
What changes have you seen in the judiciary during your career?
Certainly not wonderful changes in IT! I think that's probably one of the most irritating areas about the judiciary, but I know they're trying to make it better.
There's been quite a lot of change in trying to combine the courts and the tribunal services more. When I first started it was quite a new thing and I think there was still the perception of some division between the two. I now work in a court where the Crown Court is based and we also have a hearing for tribunals. Occasionally the county court sits there as well so there's much more combination of disciplines, which I think is quite sensible and the way it needs to go in terms of combined services.
I still think there are big issues about diversity within the legal profession. If you look at solicitors in private practice, it's much better now in terms of male/female, whereas the judiciary generally has a long way to go from that point of view.
The social security tribunal is quite unusual in that there are already lots of women involved in it. We have a quite small number of full time salaried judges, of which I'm one, and we have well over 1,000 fee paid judges who do a hearing a week or a few hearings a week depending on how much work there is. Being a fee paid judge generally fits in better for women in terms of combining it with other work or commitments like childcare.
I do not think the judiciary is as good for black and ethnic minorities, or people with disabilities. Those are areas where there needs to be more work. To lots of people law can seem very unattainable, which I don't think it is. And I think people watch the TV and think that it's all very stuffy, which it isn't.
I'm on the Judicial Diversity Committee, but I had to have long periods of time off, so I couldn't do anything last year. I'm hoping I can do a bit more on that this year, but for me the focus will be disability. It's something I feel very strongly about.
Other than sitting in court, what else does being a judge involve?
Well, to start with, we don't wear a gown at all in the tribunals. It's much more informal. We have a lot of appellants who are not represented so come in on their own. They're terrified already, so the last thing you want to do is sit there in a gown with a funny wig on your head and make them feel even more terrified. There has to be some formality to run a hearing properly but you don't need to make it so it's a real ordeal for appellants.
A lot of the outside court time is prep. I work 4 days a week, so normally do about 5 lots of hearings in 8 days. You've got all the prep to do for those days – that takes a lot of time.
Full time judges also have a number of fee paid judges to look after. If there are things like queries on their files or applications to appeal their decisions we have to deal with those and that can be quite a steady stream of work.
The other thing that we can be asked to do is to write what's called a statement of reasons – it's a bit like what would be called a judgment in some of the other courts. We have to write a document which explains why we have reached the decision and those sometimes can take a considerable amount of time.
So there's a lot of work outside the core hours sitting in court, and I think some people might think 'Oh you get it easy you start sitting at 10 and finish by 5', but people need to be prepared to work hard. There is a lot of work outside the court bit.
What advice would you give to somebody who's interested in becoming a judge?
A number of things. There are schemes available to give you work experience, and I'd say use them.
First of all there are various mentoring schemes where you can go in and shadow a judge for a week or something like that that. That's a useful way of seeing in practice what a judge might deal with at the tribunals. We sometimes have observers who come in – they can't listen to our discussion before or after a hearing, but they can listen to the actual hearing itself and that can give you an understanding of the process.
With the particular type of work that I do, I would say think about becoming a fee paid judge, where you stay in your current job but you do some tribunal work too. It's a really good way of gaining experience and making sure you actually like the job before you apply to do it full time.
If you are a young person hoping to pursue a career in law, what would you say to recommend it to them?
I have to say I think private practice is more and more difficult with all sorts of issues about accessing justice and funding. For me, it became more and more difficult to do the job that I wanted, and I saw a judicial career as a way that I could still help people.
I mean you have got to apply the law, but you need to make, as far as you possibly can, the right decision and that's the right decision for the appellant, but it's the right decision that complies with the law, and there are some appellants that do not qualify for benefit, but I think it's a very important job to be doing.
I've seen a lot of judges coming into full time judicial work at a younger age and people coming that don't have a background in private practice. They might have worked in the courts or come through a completely different route and I would say don't be afraid to apply because you can learn the law and the procedure that you need to know.
I've always said that being a lawyer isn't a question of knowing it all, it's about knowing where to look. I think you can say the same about the judicial work – you need to know where to look to get the answer to the legal question. You can't possibly know it all as you're dealing with so many different benefits.
So I would say just go for it if it's something you think you'd be interested in. It's certainly been a very rewarding, interesting career for me.
Did you have to overcome any barriers to become a lawyer, or a judge?
The biggest problem for me has been disability.
I had a very serious knee injury when I was 15 and I had lots of surgery over the next 5 years to try and stabilise it so I could bear weight on it which wasn't successful. Initially I had a fused knee which immediately wrecked my back.
I certainly felt that I experienced some discrimination when applying for my initial training with solicitors. There were some firms that worried about employing somebody who had physical difficulty. I think that was around the time I was having so much spasm in my back I had about two years where I couldn't stand up straight, so I was applying for jobs with a very visible problem. But not all firms are like that. There are good ones out there.
I had various problems as I went along. I ended up needing to have a spinal fusion and decompression because vertebrae were compressing my spinal cord. Then I had major problems a bit over 10 years ago when they tried to do a knee replacement. It failed and they then spectacularly got my treatment wrong and I ended up as an above-knee amputee.
All of the physical problems and the pain problems that come with that have presented real challenges to doing the job. But they're all plusses to it as well. I understand a lot more about disability than most of my colleagues because I have experienced it my myself, so it does sometimes help in judging the credibility of what an appellant is saying. But I have to be careful to remember people are different and react emotionally. Just because I can do something doesn't mean that another person with a disability would be able to do it as well.
In terms of making adjustments for disability, my experience has been the best with the Ministry of Justice. They have been very supportive when I've needed extensive time off for surgery and things like that.
It can be a bit disorganized. I went back to work last October and my special desk was in bits and there was nothing else in the office, and it took a bit of time to sort it out, but they get there eventually if you know what I mean.
Can you tell us a little bit more about your experience as a disabled judge if you have any words of advice or support?
The judiciary generally are very supportive of people with disabilities. Where reasonable adjustments are needed, they are made. For example, I'm no longer allowed to drive, so do a lot more of my work in one place, whereas my colleagues travel around much more.
But you have to make sure that you tell people for one thing. I'm saying that because there are many people with a disability that don't want people to know. But if you don't ask, you are not going to get the adjustments that you need.
The judiciary have been very good with me in terms of physical adjustments – from getting me a desk that goes up and down so I can stand or sit to work, to work patterns in one place, to time off. They have been very good about all those things.
You will get a lot more support from the Ministry of Justice than you would from many employers, so you shouldn't worry about applying, and you shouldn't worry about being open about any disability you might have.