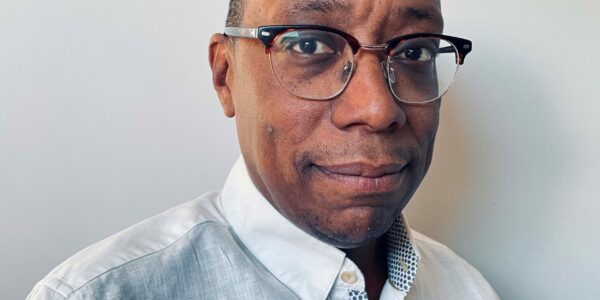 We sat down with Acting Regional Employment Judge Benjimin Burgher. Judge Burgher was called to the Bar in 1995 and was appointed as a fee paid employment judge in 2005 and a salaried employment judge in 2019. He sits at the London East Employment Tribunal in East India Dock, near Canary Wharf.
Can you tell us a bit about your background?
I grew up in Birmingham in the 70's and 80's. My father worked as a steelworker and part time publican and my mother worked as an administrative assistant. I attended a comprehensive secondary school during times of teachers strikes that resulted in many cancelled school days. I was told by the school careers advisor that I would need 4 O – levels to become a barrister and it was suggested that I revise my expectations and consider an apprenticeship to work as a bank clerk. The suggestion was not positively received, and I achieved 10 – O levels which no one in the school had previously achieved. However, I credit my results with the separate weekend education and activities at church that instilled my interest in learning and understanding. Without this, I seriously doubt that I would have achieved the academic results as sadly my secondary school was not focussed on achieving academic success for working class or minorities. I subsequently attended a selective sixth form college to do A – Levels.
What did your journey into the law look like?

I attended Manchester University and read law. I worked as an outdoor clerk attending police station and Crown Courts following graduation before earning enough money to commence the Bar Vocational Course. Working as an outdoor clerk introduced me to the previously inaccessible world of the bar and enabled me to gain confidence and contacts to believe that I could succeed as a barrister.
Could you tell us about any role models you have had in the judiciary?

HHJ Linda Sullivan KC was the first judge I met to speak to on a personal level in 1993 (when she was a Recorder). I was inspired by her approachability and welcoming encouragement that helped me believe that I could succeed in a career in law.
Regrettably, there were very few black judges when I was called to the bar, but the late Dr John Roberts QC, Recorder, was a trailblazer and provided the foundation to believe I could succeed in the legal world. Further, the tenacity, expertise and friendship of Anesta Weekes KC, part time employment judge and Recorder continually energised me during my legal career.
What do your family/friends think about you being a judge?
My family and friends are amazed that the cheeky Brummie boy they knew is now a judge. They are very, very proud and supportive and at the same time are impressed that 'I keep my feet on the ground' and remain approachable. However, I have long since stopped explaining that I am not a criminal judge and therefore don't 'lock up criminal sorts and throw away the key!'
What would you say has been the greatest highlight(s) of your legal career?
Consultancy at the Abu Dhabi Ministry of Justice and advising their Ministry and senior judiciary on shortcomings and improvements to their labour laws and processes. Amongst other things I devised and recommended the implementation of a one-day court that enabled the majority of claims that involved vulnerable low paid workers to receive judgment within one hearing, 14 days after service of the claim. The ability to augment real change and effective resolution of disputes was hugely fulfilling.
Have you had to overcome any barriers in the judiciary and how did you do this?
There were no formal Diversity and Community Liaison judges to turn to during my early judicial career and my barriers to the judiciary were perhaps self-imposed suspicions as to whether I truly belonged or whether I was simply a tolerated token black judge within the system. However, my experience is that I feel respected, heard (if not always agreed with) and properly supported.
How do you feel about the diversity of the judiciary and how it has changed over time?
I believe that the judiciary is changing, it is becoming more diverse and reflective of society.
Why is it important to have a diverse and inclusive judiciary?
My view is that the judiciary should be representative of society to maintain credibility and respect the judicial system. Diversity enables a frank and mature exchange of views that can reflect on access to justice. The Equal Treatment Bench book is an excellent guide as a starting point and a diverse and inclusive judiciary is well placed to embrace it.
What do you hope for the future of the judiciary in terms of diversity?
I hope that there will be a black Supreme Court or Court of Appeal judge in the not too distant future. There is a growing pool of exceptionally talented black lawyers who should be informed and encouraged that a judicial career would be right for them.
The month of October is Black History Month. What does 'Black History Month' mean to you and why is it important it is celebrated?
Black History Month is a good opportunity to maintain discussion about blackness in Britain. No one person has the monopoly of black experience and BHM provides an important, but not exclusive, period to share, and appreciate the experience of others with the ultimate aim of understanding black identity and improving opportunity and equality.
Are there any Black figures throughout British history that particularly inspire you?
The life of Olaudah Equiano represented a sobering and inspiring account of adversity, education, and ultimate purpose. More contemporary black Britons that inspire me are Zadie Smith, Courtney Pine and Diane Abbott. In their different ways they continually provide cultural credibility, creativity, visibility and remain authentic conduits for discussing black British identity and experience.
What advice would you give to your younger self if you had the chance?
The pressure of work will not abate so dedicate proper time each week for family, friends, and non-work activities. This will help alleviate stress, maintain important relationships and result in a more satisfying and effective approach to work, and a healthier lifestyle.