Judge helps students stay safe and learn about the courts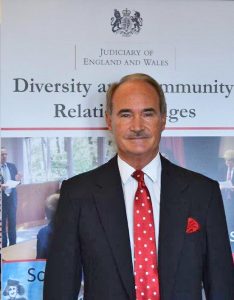 A judge who has devised a Judicial Awareness Course successfully delivered it to students as part of National inclusion Week.
HHJ Mark Horton ran the course at Merchants Academy in Withywood, Bristol for 20 14-year-olds last week. Coincidentally, it's the same school he ran his first ever judicial course in, back in 2010.
Merchants Academy serves a deprived area of Bristol, and carries out a number of activities to promote staying safe, including court visits and workshops to understand more about the role of judges and the courts.
Explaining more about his course, Judge Horton said: "In the case of the inner-city schools, the courses are aimed to allow the children to recognise that they have the skills and to build up their confidence in themselves and their powers to communicate and generally inspire hope. By changing the approach in the way we seek to encourage aspiration, we create confidence."
A Diversity and Community Relations Judge for Avon and Somerset, Judge Horton does a lot of community work, including (in pre-COVID times) arranging numerous school and university visits to Bristol Crown Court; encouraging legal executives to train and apply for the judiciary; lectures about the work of the courts, and helps the Princes Trust working with vulnerable and disadvantaged groups.
Judge Horton hopes his Judicial Awareness Course will help encourage other judges to work with their local communities and help make a difference.
You can also view this story, and other visits of HHJ Horton's, on our social media channels:
Facebook (external link, opens in a new tab)