Judicial Office Profiles: Ben Yallop
We sat down with Ben Yallop and talked with him about his role in the Judicial Office.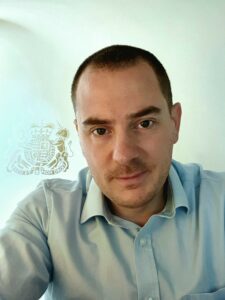 What is your job title, and can you give a brief description of your role?
I am the Private Secretary to the Lord Chief Justice of England & Wales (LCJ). This means that I am the senior adviser to the LCJ in his role as Head of the Judiciary and President of the Courts and I lead a team which provides administrative, legal, strategic and policy support to him, the Judicial Executive Board and the Judges' Council. As Private Secretary I deal with the highest profile and most sensitive issues facing the judiciary and maintain an overview of the relationship between the Judiciary, Executive and Parliament, whilst supporting the LCJ in exercising his governance and (400+) statutory and ceremonial functions.
I am the twelfth person to hold the role of Private Secretary since 1996 when Lord Bingham became the first modern LCJ. It's a prestigious and influential role.
Can you give us a snapshot of an average day?
As you might expect, no two days are the same. In essence my aim is to provide high quality written and oral advice to the LCJ and wider senior judiciary, to lead the Private Office team and to represent the position of the judiciary to officials within the Judicial Office and across Government. In practice this means I attend a lot of meetings between senior people concerned with justice and spend part of every day with the LCJ giving advice and taking instructions. I receive a lot of emails on a very wide range of topics.
There is a steady pattern of meetings with senior Ministers and officials which my team and I produce briefing for. The LCJ has regular meetings, with the Lord Chancellor, the Permanent Secretary of the Ministry of Justice and the CEO of the courts and tribunals service. He also periodically meets the Home Secretary, Attorney General, Prime Minister and others to ensure that judicial views are heard and understood by Government. He regularly meets his senior judicial leadership team, individually and together, and chairs a number of committees. I help the LCJ to prepare for such meetings by agreeing agendas, giving handling advice and collecting information to aid good discussion. Sometimes I have to help others understand the boundaries of what is appropriate for discussion with judges.
As Head of the Judiciary the LCJ is required to take very many decisions on a wide range of matters – judicial appointments and conduct for example – and each day my team produces a 'box' of submissions which require his views. Other matters are more urgent, for me or the LCJ, particularly when an issue arises which requires a public comment.
It is sometimes useful to add a footnote on what I do not do. The LCJ receives no support from my team in relation to his most important function – sitting in court on the most difficult and important cases. That is a role which all our judges perform completely independently, as one would hope and expect. Sometimes the Judicial Office is confused with Her Majesty's Courts and Tribunals Service (HMCTS) which manages the administration of the courts and tribunals. The LCJ has a dedicated HMCTS clerk who prepares him for court.
Why do you enjoy working for the Judicial Office?
We are small enough to be a very friendly, fun and close department, yet large enough to offer a wide range of roles. We are a mini-civil service supporting the judiciary on HR, policy, leadership, training, conduct, communications, international relations and many more. You could be a librarian, a diary manager, an HR advisor, a press officer, an educator and many more things besides. All will bring you into direct contact with wonderful people at the top of the legal profession.
There are chances to have a real impact. Our relatively compact size means that there are great opportunities to influence upwards and have a direct say in how the department runs. Access to our CEO and Management Board is available to any grade. I am personally very conscious of how I have grown within the Judicial Office through spending time with superb and passionate colleagues and eminent members of the judiciary.
I really value the independence of the department and our mission to support the third arm of the state. A career in the JO is the very essence of public service.
I also love working at the Grade 1 listed Royal Courts of Justice in London. It's open to the public and well worth a visit.
What has been your best experience since working here?
It is really very hard to pick out one experience, or even several. I was privileged to lead the judiciary's work on supporting the development of the rule of law overseas. Given the exceptional international reputation of our judges, their expertise is in high demand. I personally had contact with some 130 countries over three years in the role. Clearly, the priority is to deal with cases in our own courts but there was a little time for some exciting foreign visits. The most memorable for me was leading a small group of very senior judges, clad in bullet-proof vests, to Baghdad; the first visit of any senior judiciary since the Gulf War.
Closer to home, I was fortunate in supporting the Judge Advocate General, the lead judge for the military courts. This required close work with the Ministry of Defence and time with the Armed Forces around tanks, warships and helicopters – not what I expected from a career in justice.
What would you say to someone thinking of applying for a role in the Judicial Office?
Obviously given my extremely positive experience I would recommend it very highly. I think others would too. We see a number of people develop their career further within a Ministerial department, but then return to the JO.
You don't need to be a lawyer (I am not), you don't need to be from a certain background or have a particular education. We are, I believe, extremely inclusive. I worry that sometimes people feel put off by an idea of judicial values which don't reflect reality.
But do your research. Roles such as those within the Private Office have few parallels, perhaps comparable only to jobs supporting the Royal Household or the senior military. You will need to demonstrate a working understanding of judicial independence and the rule of law and also understand the department's separation from the Ministry of Justice. Make time to ask questions of someone who already works in the JO. We would be very happy to hear from you.