Andrew Baker became one of the Judges of the Commercial Court in 2016.
He is authorised to sit in cases in the Financial List and in the Administrative Court as well as in other King's Bench work, including crime and the Court of Appeal (Criminal Division).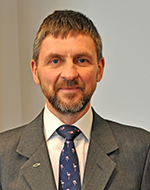 Mr Justice Andrew Baker was educated at his local state secondary school, Lenzie Academy in Strathclyde, before reading mathematics at Oxford. He completed a postgraduate diploma in Law at City, University of London.
He was called to the Bar in 1988 and, from 1989, practised at 20 Essex Street (formerly 3 Essex Court) with a commercial litigation and arbitration practice. In addition to his role as counsel he also accepted appointment as an arbitrator, and was a qualified mediator.
He was appointed a QC (now KC) in 2006 and was a Recorder and a Deputy High Court Judge before his appointment to the High Court in 2016. He became the Admiralty Judge in 2020 upon the retirement of Sir Nigel Teare.
He is a co-author of 'Time Charters' (6th Edition, 2008; 7th Edition, 2014), part of the Lloyd's Shipping Law Library, and was a Series Editor of that Library (2009-2016).