Simon Bryan became one of the Judges of the Commercial Court in 2017.
He is authorised to sit in cases in the Financial List and the Competition Appeal Tribunal as well as in the Administrative Court and other King's Bench work, including crime. He is currently a Presiding Judge on the South Eastern Circuit.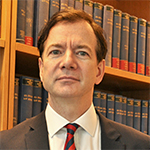 Mr Justice Bryan was called to the Bar by Lincoln's Inn in 1988, after studying law at Cambridge where he obtained a Double First Class Honours degree in law. He was a member of Essex Court Chambers for 28 years where he specialised in commercial cases
He was appointed a QC (now KC) in 2006. He was appointed a Recorder in 2009 and a Deputy High Court Judge in 2013, initially in the Administrative Court and subsequently in the Commercial Court. He also acted as an arbitrator and a CEDR accredited mediator.
Between 2015 and 2017 he was Chief Justice of the Falkland Islands, South Georgia and the South Sandwich Islands, British Antarctica and the British Indian Ocean Territory. In 2017 he was appointed as a High Court Judge assigned to the Queen's Bench Division (now King's Bench Division).
He is Editor of the Encyclopaedia of International Commercial Litigation.