Christopher John Butcher became one of the judges of the Commercial Court in 2018.
He is authorised to sit in cases in the Financial List and in the Competition Appeal Tribunal. He also sits in the Administrative Court and other King's Bench work, including crime.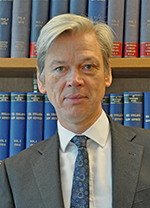 Mr Justice Butcher was educated at Oxford University. He was called to the Bar by Gray's Inn in 1986, and joined 7 King's Bench Walk in 1987. He practised as a barrister from those chambers until 2018, specialising in commercial cases.
He was appointed a QC in 2001. He sat as a Recorder from 2009, and was appointed as a Deputy High Court Judge in 2013. He became a High Court Judge in 2018, assigned to the Queen's Bench Division (now King's Bench Division).