Neil Calver became one of the judges of the Commercial Court in 2020.
He is also authorised to sit in the Administrative Court and other King's Bench work, including crime.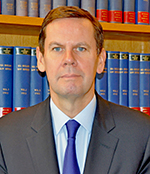 Mr Justice Calver was educated at his local Grammar School in Kent. He was Kent County Chess Champion at under 12, under 14, under 16 and under 18 levels. He read law at Cambridge, where he obtained a First Class degree.
He was called to the Bar by Gray's Inn in 1987, and practised first for 7 years in European and public law at 4-5 Gray's Inn Square, before practising for the next 26 years at Brick Court Chambers in all types of commercial litigation and arbitration.
Mr Justice Calver also acted as a commercial arbitrator in the later years of his practice in various courts of international arbitration, including the International Chamber of Commerce, London Court of International Arbitration and the Permanent Court of Arbitration in the Hague.
He was appointed as Queen's Counsel (now King's Counsel) in 2006 and as a Recorder (Crime) in 2009. He became a High Court Judge in 2020, assigned to the Queen's Bench Division (now King's Bench Division).