Peter Fraser became a Judge of the Commercial Court in 2021.
He is authorised to sit in the Commercial Court, the Technology and Construction Court and the Administrative Court, as well as other King's Bench Division work (including Group Litigation and crime).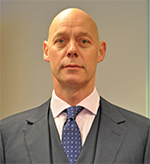 Mr Justice Fraser was educated at his local state secondary school, Harrogate Grammar School in Yorkshire, before reading Law at Cambridge. He graduated in 1986 and also obtained the postgraduate LLM degree from Cambridge, for which he studied 1987-1988.
He was called to the Bar in 1989 by Middle Temple. He completed his pupillage at Atkin Chambers in Gray's Inn in 1990 practising as a barrister from there, both in the UK and internationally in a wide variety of jurisdictions.
He was appointed a Recorder of the Crown Court in 2002, and Queen's Counsel (now King's Counsel) in 2009. He also sat as an arbitrator internationally under both the ICC, the DIAC and the HKIAC.
Mr Justice Fraser was appointed a High Court Judge in 2015, and was Judge in Charge of the Technology and Construction Court from 2017 to 2020.
On 29 June 2023 the Government announced the appointment of Mr Justice Fraser as the new Chair of the Law Commission of England and Wales. Taking up his role on 1 December 2023, Mr Justice Fraser will initially serve for three years and will play a pivotal role in overseeing the Commission's law reform and making key strategic decisions. Alongside the other Commissioners, he will be instrumental in leading the Commission's work to ensure that the law is fair, modern, simple and cost effective.