Richard Jacobs became one of the judges of the Commercial Court in 2018.
He is authorised to sit in the Competition Appeal Tribunal as well as in the Administrative Court and other King's Bench Division work, including crime.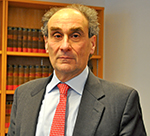 Mr Justice Jacobs studied law at Cambridge. He was called to the Bar by Middle Temple in 1979.
He practised as a barrister at Essex Court Chambers from 1980 to 2018, acting in a broad range of commercial disputes He also acted as arbitrator in a wide variety of commercial disputes.
He was appointed Queen's Counsel (now King's Counsel) in 1998, a Recorder in 2003, and a Deputy High Court Judge in 2017. In 2018, he was appointed as a High Court Judge assigned to the Queen's Bench Division (now King's Bench Division).
He is a co-author of the successive editions of Liability Insurance in International Arbitration: The Bermuda Form (3rd edition 2021).