Simon Picken was appointed a High Court Judge in June 2015, becoming one of the Judges of the Commercial Court the following year.
In addition to sitting in the Commercial Court, Mr Justice Picken is authorised to sit in the Financial List and the Administrative Court, as well as in other King's Bench Division work, including crime.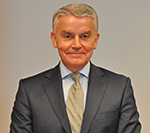 Mr Justice Picken was educated at his local state secondary school, Cardiff High School, before reading Law at Cardiff University and then Cambridge where he obtained a Starred First Class in the LLM. He was called to the Bar in 1989 and from 1991 practised at 7 King's Bench Walk in commercial law.
He was appointed a QC (now KC) in 2006 and was made a Recorder in 2005, becoming a Deputy High Court Judge in 2010.
He was the Commercial Law QC to the Welsh Government from 2009 until 2015. He was also the QC Church Commissioner (appointed by the Archbishops of Canterbury and York) between 2013 and 2015.
Between January 2018 and December 2021, he was Presiding Judge of Wales.
He is the Senior Judiciary's representative on the European Network of Councils for the Judiciary and the High Court representative in the International Association of Judges.
He is co-author of the specialist book, 'Good Faith and Insurance Contracts' (4th Ed., 2017).