Sir Robin Knowles CBE became one of the Judges of the Commercial Court in 2015.
He is a designated Judge of the Financial List. He also sits in the Administrative Court and other King's Bench work, including crime.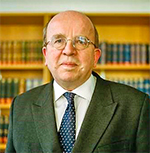 Sir Robin Knowles CBE was educated at state school before reading Law at Cambridge. He commenced practice at the Bar in 1984, and was appointed a QC (now KC) in 1999. His practice was in commercial, financial, company and insolvency law. He became the Chair of the Commercial Bar Association of England & Wales and of Advocate (the Bar Pro Bono Unit) and the National Pro Bono Centre.
In 1998 he was appointed an Assistant Recorder, a Recorder in 2000 and a Deputy High Court Judge in 2007, sitting in the Crown Court, the Chancery Division and the Commercial Court. He is a qualified mediator and has sat as an arbitrator. He became a High Court Judge in 2014.
Sir Robin is the judge with day-to-day responsibility for the Standing International Forum of Commercial Courts, and is a board member of the Financial Markets Law Committee. He has served as Chair of the International Committee of the Judicial College and as a member of the Civil Justice Council. Through the pandemic he chaired the cross-sector MR's Working Group on possession proceedings. Within the HMCTS Reform Programme he chairs the Litigants in Person Engagement Group (LIPEG).
Sir Robin was awarded the CBE in 2007 for service to pro bono legal services. Outside the law, before his appointment to the High Court bench, he chaired the UK umbrella charity in the children's palliative care and children's hospice sector.