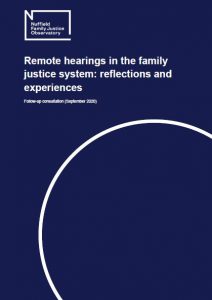 The Nuffield Family Justice Observatory (NFJO) has today published a follow-up consultation report (external link, opens in a new tab) entitled Remote hearings in the family justice system: reflections and experiences.
Following the outbreak of the COVID-19 pandemic, and the introduction of social distancing measures, the Family Court in England and Wales rapidly adapted to using telephone and video hearings. In light of this significant change, the President of the Family Division asked the NFJO to undertake a rapid consultation on the use of remote hearings in the family court. The consultation ran for a two-week period in April 2020 and more than 1,000 people responded.
The current report provides an overview of the findings of a follow up consultation process undertaken between 10 and 30 September 2020. 1,306 respondents completed a survey, several organisations submitted additional information, and focus groups and interviews were undertaken with parents.
The President of the Family Division, Sir Andrew McFarlane said in response to the report: "This emergency is without precedent. Judges and others have worked tirelessly, and continue to do so, so that the Family Court has continued to function without a break since the start of 'lockdown' in March. We have adjusted, developed and adapted our methods of working as the crisis has persisted. Much of the work of the Family Court cannot be left to wait as many cases, involving the welfare of children as well as adults, are urgent. Because of the need for social distancing most cases are currently heard remotely (either wholly or in part). The report highlights that everyone is doing their best in the circumstances.
"This important piece of independent research, which holds a mirror up to the system, is a most valuable reflection after six months of remote working. Encouragingly, most professionals, including judges, barristers, solicitors, Cafcass workers, court staff and social workers, felt that, overall, the courts were now working more effectively and that there were even some benefits for all to working remotely.
"However, the report highlights a number of areas of concern that need to be addressed. There are clearly circumstances where more support is required to enable parents and young people to take part in remote hearings effectively. It is worrying that some parents report that they have not fully understood, or felt a part of, the remote court process. Whilst technology is improving, there is clearly still work to be done to improve the provision of Family Justice via remote means. I am very alert to the concerns raised in this report, and I will be working with the judiciary and the professions to develop solutions."