Judge in Charge of the Commercial Court meets with Newcastle Circuit Commercial Court practitioners and users
Skip to related content
Mr Justice Foxton, the Judge in Charge of the Commercial Court, has visited the Newcastle Circuit Commercial Court.
He heard a Costs and Case Management Conference in the Circuit Commercial Court, sitting in the Moot Hall Court, on 24 October.
HHJ Philip Kramer hosted an event to meet users in the Moot Hall Grand Jury Room. Mr Justice Foxton then visited the Newcastle Civil and Family Courts and Tribunal Centre, a 25-court centre which was opened by the Lord Chief Justice in July 2021.
Later in the day Mr Justice Foxton took part in a Q&A session with students from Northumbria, Newcastle and Durham Universities, hosted by Northumbria University.
In the evening, he gave a speech to the Newcastle Business and Property Courts Forum, which was attended by an "in person" audience of more than 100 people. His speech, Football and the Law, can be read below.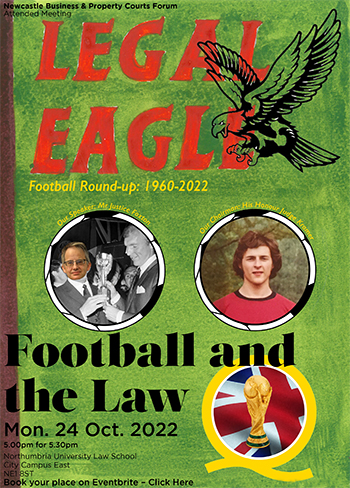 This was the 19th of a series of events organised by the Newcastle Business and Property Court Forum, which promotes the local justice system and the Business and Property Court in Newcastle.