Judicial Office Staff Profiles: Interview with Maxine Fidler
We sat down with Maxine Fidler and talked with her about her role in the Judicial Office.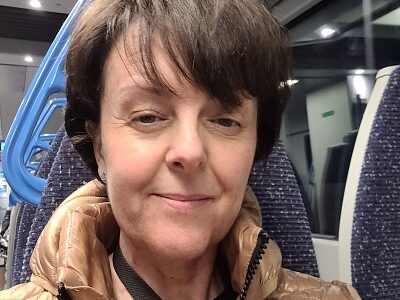 Can you give us a brief description of your job title and a description of your role?
I am the Executive Assistant to a Deputy Director and a District Judge. I am also the Secretariat to the Resource Committee and a member of the Judicial Office Courts and Tribunals Reform Team. In my role, I am responsible for all clerical duties in support of the Deputy Director and the District Judge. These include diary management, commissioning of papers and booking travel accommodation. As the Secretary of the Resource Committee, I oversee the organisation of the tri-yearly meetings and provide support to the Committee members.
Can you give us a snapshot of an average day?
On an average day, despite what challenges arise, my primary objective is to ensure the diary runs smoothly and effectively to ensure best use of both the Deputy Director's and District Judge's time. I respond to meeting requests promptly, commissioning any relevant papers that are needed for forthcoming meetings.

My day usually begins with organising my own emails as a priority and carrying forward any actions arising from those. Then, if the Deputy Director is around on that day, I intermittently monitor their inbox for any urgent e-mails.
The rest of my day will then entail managing the diaries for the Deputy Director and District Judge. With hybrid working and competing time demands, rescheduling and juggling priority meetings which all need to take place within given timescales can be very challenging.

Additionally, I attend meetings as and when required. I may have to meet and greet an external visitor for a meeting. On a weekly basis I have 1:1s with the Deputy Director and the District Judge for a forward-look of their diaries.

Why do you enjoy working for the Judicial Office?
I have worked in the Judicial Office since 2007 and have stayed because I simply enjoy the work I do. It is also due to the friendly environment and people in the organisation being such decent, supportive colleagues. It is often noted that new joiners appear to have been in the Judicial Office for longer than they have, because they tend to settle in so quickly. Our senior leaders are all very approachable and visible, which is important. From my experience and time spent here as an EA, staff are also trusted and have a good level of autonomy within their roles to do the best work they can.

As an EA, it is important that I remain flexible and adaptable. I have supported different people over time and this keeps the work fresh with a new perspective, as everyone has their own style and ways of working. I like that my role gives me an overview of the different areas of work within the Judicial Office, so this diversity helps to keep the job interesting and varied.

I find there are opportunities to learn within my team but also across the wider Judicial Office. We are encouraged to hone our strengths, contribute to the development of corporate values and to try out new things that interest us, as much as the workload allows.

Judicial Office staff are always welcome to join various different working groups. I have learned a lot being part of the JO Wellbeing Group and the JO All Staff Events working group over the years and discovered an area of work that I enjoy – one of my corporate contributions to the work of the wider Judicial Office is still going strong!

What has been your best experience since working here?

I have several experiences that I'd consider to be the best I've had. When I reflect, I realise that they have actually been the experiences that I have found most challenging, and therefore have been the most rewarding. I have supported many people over the years. I love the team that I am currently in and the work is very interesting. Some fun memories came out of the Wellbeing work and Staff Events – ranging from helping with stalls at events, to running a 'desk and stretch' class within the team and a lunchtime 'Stroll for the Soul' to promote mindfulness and staying healthy.
What would you say to someone thinking of applying for a role in the Judicial Office?

I would say, please just do it! There are plenty of opportunities, and a great bunch of people to work with – need I say more?