Online course on the judiciary goes live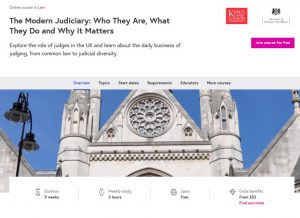 If you are interested in finding out more about the work of judges you can now take our online course which went live this week.
'The Modern Judiciary: Who they are, what they do and why it matters' is designed to explain the workings and purpose of the modern Judiciary to young people across the country.
The course – or MOOC (Massive Online Open Course) – was developed by the Judiciary (judges) in partnership with King's College London
The course is open and accessible to the general public free of charge.
It will last for five weeks with a commitment of just three  hours a week necessary. Participants cover the work of the Judiciary, examine judges' portrayal in the media and learn how to understand judgments.
The format includes a range of interactive content, including quizzes, mini-lectures, articles, case studies and interviews with judges from England & Wales. No previous legal knowledge is required to take part.
The course is available at FutureLearn online (external link, opens in a new tab).