Skip to related content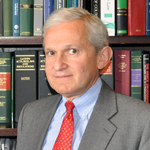 The Chancellor of the High Court, Sir Geoffrey Vos, spoke at the Law Society's annual Civil Litigation conference on 9 October 2019 about 20 years of the Civil Procedure Rules – and whether the original reforms went too far, or not far enough.
The 20th anniversary of the Civil Procedure Rules has arrived. I well remember the Woolf Report, the processes that led up to it and the reactions at the time. I have to say that I have long been a sympathetic critic of the Woolf reforms. Now that I am the Editor-in-Chief of the White Book, I might be entitled to say something about why I have taken that view.
This afternoon, I would also like to offer a new perspective 20 years on.
Let me say at once that I do not, in any sense, detract from the enthusiasm and audacity with which Lord Woolf approached the design of the new Civil Procedure Rules. History has, however, shown, I think, that his reforms were inadequately revolutionary for the time. The 1990s were difficult years. The internet was in its infancy, emails were taking hold, but social media was unheard of, and artificial intelligence was some way from reaching any kind of fulfilment. With hindsight, such a foundational reform would better have waited another 10 or 15 years. In another sense, it was already well overdue. I will try to explain what I mean.