Plaque unveiled to honour Britain's first female magistrate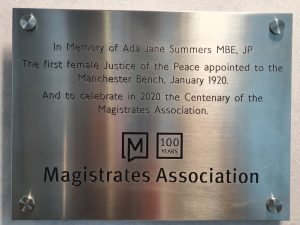 Britain's first ever female magistrate has been honoured with the unveiling of a plaque where she sat in Manchester.
The plaque, at Manchester Magistrates' Courts, celebrates the achievements of Ada Jane Summers JP as well as marking the centenary of the Magistrates Association.
It was unveiled by the High Sheriff of Greater Manchester, Dr Eamonn O'Neal DL, and John Bache, National Chairman of the Magistrates Association and Paul Brearley JP, Greater Manchester Bench Chairman was among those attending.
Ada Summers was the first British woman to become a Justice of the Peace in England.
In 1912 she was elected as a councillor in Stalybridge. She was a philanthropist, who used her wealth to fund a maternity and child welfare centre, and an employment centre in Stalybridge, the Ladies Work Society. In 1926 she established a nurses' home. Her philanthropy continues to this day.