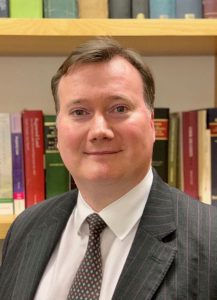 ICC Judge Mullen was called to the Bar in 2001 by Lincoln's Inn and practised at the Chancery Bar, specialising in charities, companies, insolvency and private client matters. He was called to the Bar of Northern Ireland in 2015 and elected a Bencher of Lincoln's Inn in 2019.
In 2008 he was appointed as Junior Counsel to the Crown, HM Attorney General's 'C' Panel, advancing to the 'B' Panel in 2011 and to the 'A' Panel in 2016.
He is the general editor of 'Tolley's Insolvency Law' (LexisNexis UK, loose-leaf), the author of the current edition of 'Running a Charity' (Jordans, 2015), the joint author of the current edition of 'Companies Limited by Guarantee' (Jordans, 2014) and a contributor to 'Gore-Browne on Companies' (Jordans, loose-leaf) and 'Insolvency Litigation: A Practical Guide' (Sweet and Maxwell, 2018).
Judge Mullen was a barrister member of the Inns of Court Disciplinary Tribunal from 2009 to 2013 and was appointed as a Deputy Registrar in Bankruptcy of the High Court in 2016. In 2018, he was appointed as an Insolvency and Companies Court Judge and is based at the Rolls Building, Royal Courts of Justice. He also sits as a Recorder on the South Eastern Circuit.