Robes event hears powerful speech from judge
Skip to related content
Lady Hallett gave a powerful speech about discrimination, equality and women's rights at the Robes event (opens in a new tab) at the Royal Courts of Justice.
The event marked the 100th anniversary of the Sex Disqualification (Removal) Act 1919, which allowed women to practise law for the first time.
We honoured the female trailblazers who made their mark in the legal profession by putting on display the original robes worn by Mrs Justice Elizabeth Lane, the first female High Court Judge, in the Legal Costume Exhibition at the Royal Courts of Justice in The Strand, London.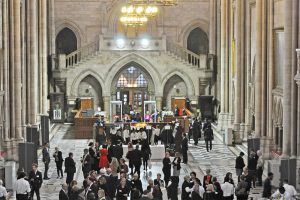 The robes were subsequently worn by Mrs Justice Margaret Booth (who attended the event), Baroness Hale and Lady Black. These are the first robes worn by a female judge to go on display and are free for all to visit.
After an introduction by the Lord Chief Justice, Lady Justice Hallett gave her speech, which can be read below.