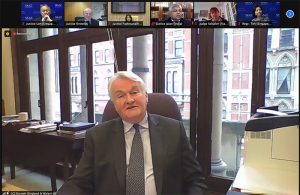 The 3rd full meeting of the Standing International Forum of Commercial Courts (SIFoCC) was an opportunity for members of the judiciary across the globe to share best practice and build on their collaborative work.
The two-day conference – the biggest in SIFoCC's calendar – was hosted by Singapore in early March. It took place virtually due to the COVID-19 pandemic.
In total, 36 legal jurisdictions were represented from five continents; 17 of the delegations were led by their own Chief Justice.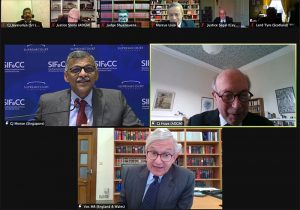 The delegation for England and Wales was led by the Lord Chief Justice, Lord Burnett of Maldon, with the Master of the Rolls, Sir Geoffrey Vos who gave a speech on Technology in a New World (opens in a new tab); Chancellor of the High Court Sir Julian Flaux; and Mrs Justice Cockerill, Judge in charge of the Commercial Court.
Speaking after the event, Lord Thomas, chair of the SIFoCC Steering Group and a former Lord Chief Justice of England and Wales, said: "The meeting provided a forum for the discussion of cross jurisdiction understanding in commercial courts as well as technical development and it is an important step in the collaborative effort of Commercial Courts across the world.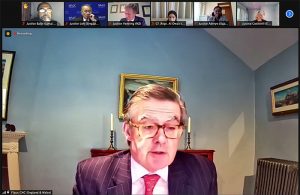 "The third meeting of SIFoCC provided a unique opportunity for judges to share experiences, post pandemic, on this scale. We are extremely grateful to the teams in London and Singapore for the work that has made the event possible."
Chief Justice of Singapore, Sundaresh Menon, said it had been a privilege to host the event.
He added: "I am delighted that we were able to do so virtually this year despite the many challenges brought about by the COVID-19 pandemic.
"Over the years, SIFoCC has established itself as an invaluable forum at which commercial judges and court administrators can come together to exchange views and share best practices.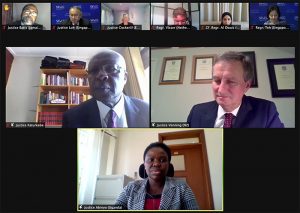 "I am confident that the continuing collaboration, cooperation and contact that SIFoCC fosters amongst its members will enable commercial courts to better address the opportunities and challenges that will surely arise amidst the rapidly changing landscape of international commercial dispute resolution."
The SIFoCC sessions were recorded and are available to watch now on the SIFoCC YouTube Channel (external link, opens in a new tab)