"I know that I want to be a lawyer – this evening not only inspired me, but also acted as a motivation for me to start researching more about the career."

Student at the Abbey School, Reading
In March this year, the Abbey School in Reading hosted the landmark pop-up exhibition '100 Years of Women at the Bar' and staged a showcase evening for young people in the town to promote a career in the legal profession. The exhibition was previously on display at the Royal Courts of Justice and the Supreme Court. It features women judges and pioneers in the legal field and celebrates the centenary of Dr Ivy Williams' as the first woman to be called to the English Bar in 1922.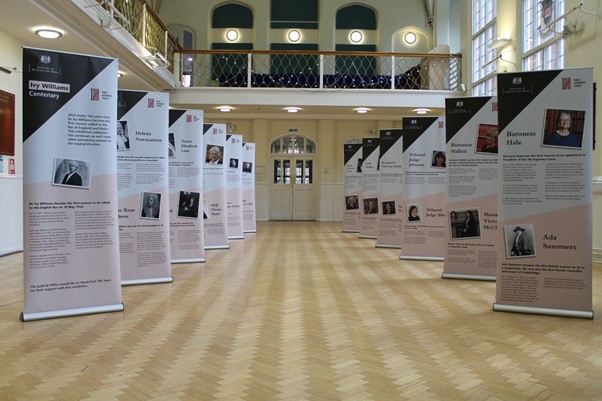 Over 400 students and parents from six schools attended a private viewing of the exhibition and heard from keynote speakers, Court of Appeal Judge Lady Justice Geraldine Andrews DBE, Founder of the First Hundred Years Project Dana Denis-Smith, and Barrister Samantha Woodham. The speakers shared career highlights and discussed the various challenges they have overcome.
One student said, "As a female student who wants to choose law as a career, it was inspiring to see and learn from the women who had fought hard to earn their right and importance within this profession."
Students participated in three theatrical performances inspired by the true stories of legal pioneers featured in the 100 Years exhibition – Helena Normanton, Dame Linda Dobbs and Tribunal Judge Thaira Bibi.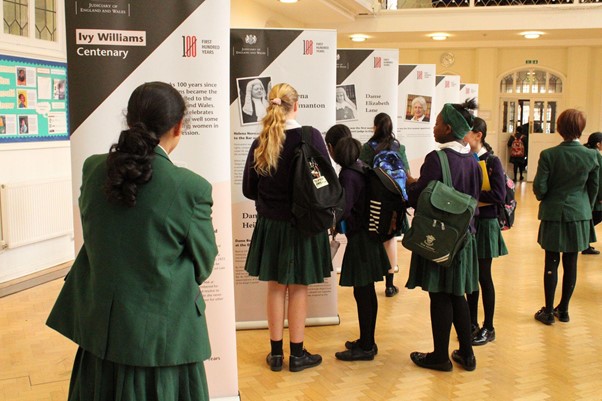 Barrister Samantha Woodham, an alumna of the Abbey, was presented with a purple plaque award for her work in improving the experience of divorcing couples through a 'one couple, one lawyer' approach. The aim of this Innovate UK award is to ensure the achievements of pioneering women are recognised and to inspire future generations of innovators.
The evening concluded with networking and breakout rooms, giving students the opportunity to engage directly with judges and the legal profession.