The Lord Chief Justice, Lord Burnett of Maldon, visited Jesmond Park Academy where he delivered a talk to students as part of the Schools Engagement Programme.
Students had the chance to hear about the work of judges, the justice system and the rule of law.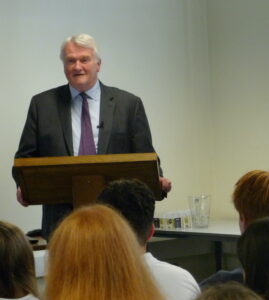 The Lord Chief Justice used the visit to launch a new animation explaining the rule of law and the importance of independent judges. The video is available here (external link, opens in a new tab) and is embedded below.
Speaking at the Academy, the Lord Chief Justice said:
"The rule of law is fundamental to our British way of life. Every day, many thousands of judges make decisions which affect people's lives, and their livelihoods. But most people have little idea of what goes on unless they find themselves in the system.
"I want to make it easier for schools to help teach pupils about the justice system, and how it really works – I want to invite students to talk to us about our work. We already know that having a discussion with a real judge is very popular with school students.  I want to make this opportunity more widely available to schools by asking them to consider inviting judges to visit and give them access to other resources that support their curriculum, and their careers conversations with students.
"There are judges from all walks of life and at many various levels in courts and tribunals. I also want to send the message to all students, from whatever background, they could be the lawyers and judges of the future."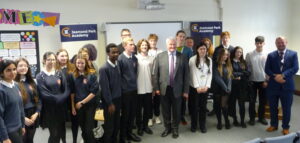 The visit comes on the back of the work that the Diversity and Community Relations Judges (DCRJs) and magistrates already do in the community. The Lord Chief Justice hopes that their work will help encourage students from all backgrounds to think about a career in the justice system.