Available in the Rolls Building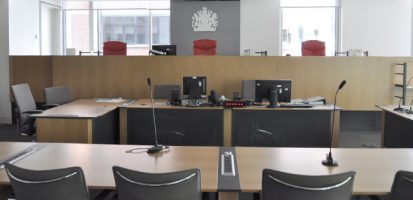 The Rolls Building is a world class purpose-built court facility located in the heart of legal London – at 7 Rolls Building, Fetter Lane, London EC4A 1NL.
The Rolls Building for the first time brings under one roof the Chancery Division, the Commercial and Admiralty Court and the Technology and Construction Court.
It is the largest specialist centre for the resolution of financial, business and property litigation anywhere in the world and a centre of excellence for high value dispute resolution.
How to get there
The Rolls Building is located within 30 minutes of many of the world's pre-eminent law firms and chambers and accessible internationally through London City Airport, London Heathrow, London Gatwick and London Stansted.
Opening hours: Counter Services: 10am–4.30pm; Court building open: 9am–4.30 pm.
View the street map and more information on Google Maps (external link).