Introduction to the Chancery Division
Historically, the High Court of Justice has been divided into three divisions: the Chancery Division, the King's Bench Division, and the Family Division.
The history of the Chancery Division
The Chancery Division is the successor to the Court of Chancery. The Court of Chancery was originally a largely administrative body headed by the Lord Chancellor which became a largely judicial body in the 14th century, and which developed the doctrine of equity. The Court of Chancery was dissolved and its jurisdiction transferred to the Chancery Division of the High Court as a result of the Judicature Acts 1873 and 1875.
During the 20th century, the Chancery Division grew steadily, and specialist Bankruptcy, Companies and Patents Courts were established. In addition, a number of regional centres outside London were created to supplement the historic jurisdiction of the Vice-Chancellor of the County Palatine.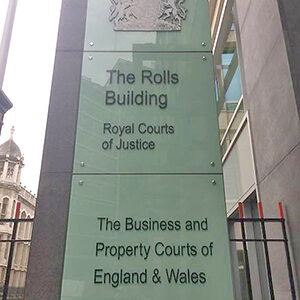 The Chancery Division today
The modern Chancery Division undertakes civil work of many kinds. The work of the division typically embraces:
Disputes relating to business, property or land
Disputes over trusts
The administration of estates
Competition claims under either European or UK competition law
Commercial disputes
Intellectual property issues
Disputes over the validity of wills
Insolvency
Bankruptcy
Corporate disputes
Disqualification of directors
Tax
Professional negligence
Construction disputes
There are various highly specialist lists comprising the Chancery Division:
The Business List (with the Financial Services, Regulatory and Pensions sub-lists)
The Financial List (which spans both the Chancery Division and the King's Bench Division)
The Competition List
The Insolvency and Companies List
The Intellectual Property List (with the Patents Court and the IPEC sub-lists)
The Property, Trusts and Probate List
The Revenue List
Relationship with the Business and Property Courts
The work of the Chancery Division has some overlap with the work undertaken in the civil lists of the King's Bench Division. Since 2017, this work is grouped (together with various civil lists of the King's Bench Division, including the Commercial Court) under the umbrella heading of the Business and Property Courts (B&PCs).
In addition to the seven lists falling within the Chancery Division (as above), the work undertaken in the B&PCs includes various additional specialist lists of the King's Bench Division:
The B&PCs are based in the Rolls Building, in Fetter Lane, London EC4, which is now the largest specialist centre for financial, business and property litigation in the world.
Chancery business outside London
Outside the Rolls Building there are seven B&PCs District Registries. The B&PCs Registries are located at Court centres in Birmingham, Bristol, Cardiff, Leeds, Liverpool, Manchester, and Newcastle-upon-Tyne. The additional three Chancery District Registries were Preston, Mold, and Caernarfon. Chancery business outside London is divided into two broad geographical areas, each with a supervising High Court Judge, one comprising the Midlands, Western and Wales Circuits and the other the Northern and North Eastern Circuits. For further information, see Appendix C of the Chancery Guide (PDF).