In this half of the Chamber, the tribunal jurisdictions deal with:
Appeals against decisions of local authorities in England regarding special educational needs and provision including the making and maintaining of Education Health and Care plans for children and young people aged up to 25 years and making recommendations in respect of health and social care needs and provision;
Claims of disability discrimination in schools in England;
Appeals against decisions in England and Wales restricting an individual from working with children or vulnerable adults and decisions regulating certain health, childcare and social care provision as well as the regulation of independent schools and
Appeals and applications relating to the management of lists in Wales and England of doctors, dentists, ophthalmologists and some providers of pharmaceutical services, providing NHS service.
Welcome to the Health Education and Social Care Chamber.
The Deputy Chamber President leads a team of 13 District Judges and about 350 part time judicial office holders, consisting of judges and members who make up the tribunal panels that hear appeals, applications and claims. The tribunals are independent bodies with judicial office holders appointed by the Lord Chancellor.  The jurisdictions in this half of the Chamber deal with approximately 10,500 cases a year.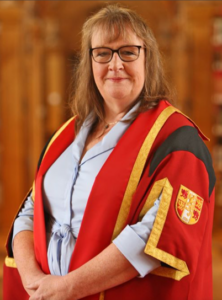 The judiciary are supported by an administrative team located primarily in Darlington but also in Bradford, Leicester and Loughborough.  The administration are responsible for the practical arrangements, ensuring that cases are dealt with efficiently and effectively and provide support to the judiciary to hear the cases promptly.
Preparing a case for the Tribunal can be a challenging experience for many of the users, most of whom are not used to the legal process and will represent themselves.  Tribunal judges and specialist members are aware of the difficulties and will ensure, in accordance with the overriding objective of the Tribunal Procedure Rules, that they deal with every case fairly and justly, which includes ensuring as far as possible that the parties are able to participate fully in the proceedings. In every case, the tribunal will carefully consider the evidence and the representations of the parties, make findings of fact and apply the relevant law to the facts.  A full written decision is issued after every hearing, explaining the reasons for the tribunal's conclusions.
There are links to more detailed guidance and documents and I would encourage anyone who wishes to pursue an appeal, application or claim to the tribunal to read those documents carefully before starting on the appeal process. Preparing the case thoroughly, bearing in mind the relevant statutory considerations, will ensure that the tribunal has the necessary information to reach a fair decision in the case.
Judge Meleri Tudur
Deputy Chamber President – First-tier Tribunal Health, Education and Social Care Chamber (Special Educational Needs and Disability, Care Standards and Primary Health Lists)