Appointment of Lord Justice Dingemans as Lead Judge for International Relations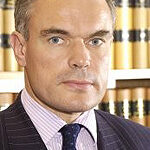 Following expressions of interest from Court of Appeal judges, the Lord Chief Justice has appointed Lord Justice Dingemans as lead judge for International Relations.
His appointment, which took effect from 26 February 2021 for a period of four years, follows the appointment of his predecessor, Lord Justice Flaux, as the Chancellor of the High Court.
Lord Burnett of Maldon, The Lord Chief Justice, said: "I welcome Lord Justice Dingemans to his important new role as Lead Judge for International Relations and wish him every success in that capacity in the future."
Lord Justice (James) Dingemans was called to the Bar, Inner Temple, in 1987. He was appointed Queen's Counsel and a Recorder in 2002. He was made a Deputy High Court Judge in 2010 and a High Court Judge in 2013, assigned to the Queen's Bench Division.
He was appointed to the Court of Appeal in 2019 and has been the Vice President of the Queen's Bench Division since February 2020.
Lord Justice Dingemans has considerable experience in international work, guiding the judiciary through his role on the International Executive Group and as lead judge for the Commonwealth. He was Chairman of the International Committee of the Bar Council from 2009 to 2012 and a member of the Executive Committee of the Commonwealth Lawyers' Association. He is currently a Council Member of the Commonwealth Magistrates and Judges Association (CMJA).
Lord Justice Dingemans said: "It is a privilege to be appointed lead judge for International Relations. I look forward to continuing the important international work of the judiciary of England and Wales in promoting the rule of law."