Diversity and Community Relations Judges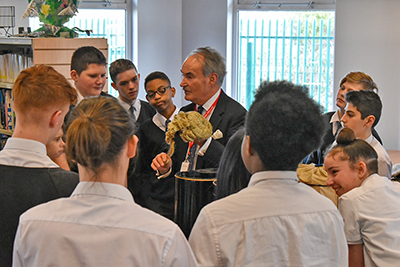 The work of the Diversity and Community Relations Judges
Diversity and Community Relations Judges across England and Wales undertake a huge amount of community engagement in a voluntary capacity. They also seek to encourage legal professionals from under-represented groups to consider a judicial career. They actively seek to dispel myths surrounding the judiciary and to act as a link between the courts and all local communities.
DCRJs play an important role in bridging the gap between the judiciary and the community. Their activities inform and educate people about the reality of what it is to be a judge and helps remove the myths and misconceptions that prevail.
The work of the Diversity and Community Relations Judges (DCRJs) helps to increase public confidence in the legal system, challenge inaccurate or outdated perceptions of the judiciary, and explains the challenges and complexities of the job they do. The judiciary is at the forefront of the justice system, so it is important that different communities understand the role of the judiciary, and the constraints under which it operates.
Who the DCRJs work with
Although the network of judges was set up originally to work with black and minority ethnic communities, the work has now expanded to include all member of the community and in particular under-represented groups (including issues around social mobility).
The judges take on this work voluntarily, in addition to their normal court-related responsibilities. The Lead DCRJ is HHJ Dight who is supported by a Deputy Lead Deputy Senior District Judge (Chief Magistrate) Ikram. They co-ordinate the activities of 100+ DCRJs across the country and organise an annual training event to share information, learn lessons and plan ahead to make a greater contribution to judicial diversity.
What the DCRJs do
The main role of a DCRJ is:
To engage with the wider community through outreach work (schools, universities, businesses, community groups, faith groups, wider civil society) to dispel the myths that surround the judiciary, giving people a more accurate understanding of the role of the judge and the justice system;
To make links with the legal professions and law students particularly from under-represented groups and to make those individuals aware that a judicial career is available to people of all backgrounds provided they have the qualities and abilities needed by the judiciary and thus to encourage greater diversity among applicants on merit;
Assisting other members of the judiciary with diversity and community relations issues and to act as diversity role models in their respective courts and tribunals.
DCRJs also visit schools and universities to talk to students about the justice system, and to encourage them to seek employment in it. They invite pupils from local schools to their courts, so that they can get an 'insider's view' of the process.
Find out more on our Schools Engagement webpage.
Find your local DCRJ
Judges may have difficulty attending some daytime events, due to their court commitments, but if you would like to get in touch with your local DCRJ to check their availability for a particular event (for example to speak at your school, college/university or community group) please contact JudicialHRDiversityEvents@judiciary.uk